3Di Reporting
The 3Di reporting system is an automated, integrated reporting interface for advanced clinical modules. Images, graphs, tables and findings from any clinical application can be fed into a report template using a propriety XML architecture.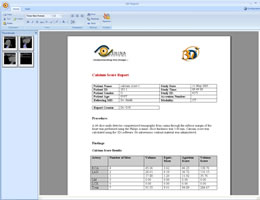 Reports can be updated from within the clinical application, during any process. Reports can be generated, saved (for further review and editing), approved and printed.
Reports can be saved as encapsulated PDF (DICOM embedded) or native report files (for use only with the 3Di reporting system). Saved reports are hosted and managed by the 3Di platform.
3Di Reporting Feature Highlights
Embedding of the hospital/clinic logo
Automatic updates of patient and study data
Automatic updates of the report creator
Automatic launch of relevant templates from any clinical application
Reports automatically include updated images and findings
Adjustable and flexible templates for clinical applications
Physician comments/input
Easy-to-use editing tools for text manipulation, tables and graphical objects
Thumbnail display of all reported images for quick review and editing
Report approval (saved as DICOM-encapsulated PDF)
Save, email or print reports
Export an approved report file to a PACS system
Selection, hosting and preview of reports on the 3Di system